When Was The Last Time You Had Someone Check Your Network Cabling?
Are your computers running slowly?
The problem doesn't always trace back to the computers themselves.
Sometimes, it's your network
See why having IT professionals that are experienced for low voltage cabling is important?
IT Cabling
Telephone Cabling
Computer Network Cabling
Your devices can communicate only as well as the cabling that links them will allow. Broken cabling and bad connections lower the speed of your network or stop the flow of data altogether.
Types of Low Voltage Cabling
The types of low voltage cabling or network cable used in our structured cabling installations include:
Cat3
Cat5
Cat5e
Cat6
Cat6a
Fiber Optic
We Do More Than Network Cabling Assessments!
Network Cabling Designs – for new builds
Cabling Installs
Cabling Repairs
Cabling Retrofits – for office renos and facility expansions
Get It Right from the Beginning – Call Qualified Professionals
"I can do the low voltage cabling for you."
Maybe you've heard this before from a well-meaning electrician in a renovation or new build scenario.
Here's the truth about that situation.
Electrical contractors (with a few exceptions) are not properly trained and qualified for low voltage cabling.
Why?
Although high voltage cables and low voltage cables are essentially wires, the installation of the two types of cabling couldn't be different.
We'll not take time to explain all the technical differences between low voltage and high voltage cabling, but here's something to think about.
Electrical contractors that aren't working with low voltage cabling (and especially fiber optic cabling) tend to treat these delicate cables and sensitive connectors in the same rough manner that they employ in pulling the high voltage cabling. While the high voltage cabling can handle the shoving and tugging around corners and through holes, the fine copper wires in low voltage cabling and the tiny thread of glass/plastic inside fiber optic lines are likely to break and cause problems for you.
See why having IT professionals that are experienced for low voltage cabling is important?
We'd be happy to have a conversation with you about the problems your network is facing or the new cabling project you have coming up. Give us a call.
What About Design for the Structured Cabling?
Yes! We do that too!
Before a structured cabling project makes it to the installation phase, a qualified tech must draw up plans for the network that take into account the following factors.
The structure of the facility
The floorplan
Your current workforce
Your workflow
Your anticipated growth plans
Each of these items factor into a design for your structured cabling layout.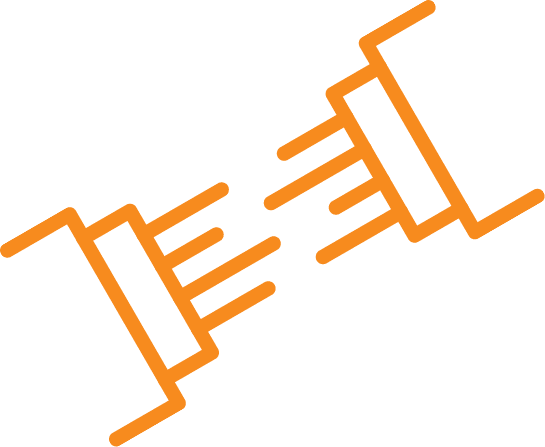 What About Troubleshooting Problems with Low Voltage Cabling?
Troubleshooting low voltage cabling is tricky. Sometimes, it's finding something as small as a broken strand of wire inside a cable or dust on a fiber-optic connection.
But we have good news!
We do the impossible every day.
Our structured cabling professionals have worked on so many installs and troubleshooting calls that we know exactly how to find problems, address them, and get you back to working at full speed again.