From Leesburg and The Villages to Dade City and Clermont, we've got manufacturing IT support covered!
Let's ask three simple questions.
How confident are you in your IT security posture?
Are you certain you are getting the most out of your technology's efficiency potential?
What is your opinion of the response speed and the effectiveness of your current IT support solution?
Now that you have those answers in your mind, let's give you a few facts.
The NexgenTec team has been supporting Manufacturing facilities and processes since 2001.
NexgenTec operates on a subscription IT support model called "Managed IT Services" that provides near-zero downtime and continuous cybersecurity monitoring.
Qualified IT technicians answer your calls at NexgenTec – not a dispatcher or operator. We begin to answer your question or address your IT issue from the moment we pick up the phone.
What Makes Our IT Support for Manufacturing Different from Serving Other Industries?
What many IT support companies don't understand is that caring for the technology of a manufacturing facility is much more complex than simply keeping the front office computers working. The truth is that nearly anyone you call can do that.
NexgenTec is different.
Our holistic approach to IT support for manufacturing businesses includes a carefully tailored application of IT tools designed to keep you running at full speed 24/7.
For your productivity and efficiency — Managed IT Services
To help you meet obligations to clients even in the face of disaster — Business Continuity Strategy
For your communications and collaboration needs — Business Phone Systems
For mobility of your workflow within your facility — Wireless Networking
For your new builds and facility expansions — Structured Cabling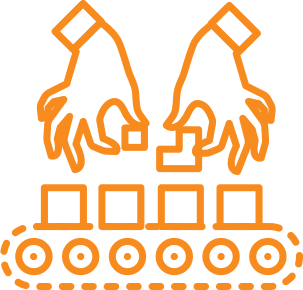 To protect your investment, your clients, your data, and your employees — Cybersecurity
For the parts of your process that benefit from Linux — Linux Consulting
For your documents, collaboration, spreadsheets, databases, and email — Google Apps and Microsoft Office 365 Consulting
To integrate and leverage the advantages of Mac products — Apple Support
What's So Special About Managed IT Services for Manufacturing?
There is a stage in every company where the business leader has to make a decision about IT support. Will he/she invest in hiring an in-house IT staff or outsource the work to professionals who will care for it as if it were their own IT environment?
The downside of hiring internal staff is the huge expense.
The advantages of partnering with a Managed IT Services provider are:
An entire team of IT specialists
An easily-budgeted monthly IT support payment
An on-call solution for IT questions and troubleshooting
An IT environment that is fully maintained and supported
A business-centric approach to manufacturing technology performance